As expected, the Storm Prediction Center has upgraded parts of the "Moderate Risk" area to a rare "High Risk" in their latest Day 1 Outlook. The outlook covers the time period from now through 7am Thursday.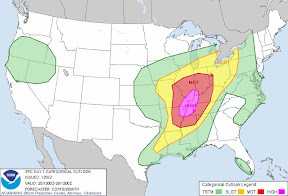 Places especially in the "High Risk" and "Moderate Risk" should pay close attention to the weather today/tonight.
I still think the window for the "big show" in the KFVS viewing area is from 1pm through 7pm or 8pm.
The window for central Indiana is 4pm to 11pm.
All severe weather types will be possible with storms that develop including large, long tracked tornadoes and very large haul.
Take a couple of minutes and think about what you will do or where you should go if you are at work when a Tornado Warning is issued for your location. Also, make sure you have a way to be alerted to warnings.
We've had some horrible weather damage to our west the last couple of days and I definitely do not want to see that happen here. Let's keep our record clean!