I have had rain in the weekend forecast all week. I don't think it's going to be a widespread wash out. There will be periods of dry and then a period or two of rain.
The Storm Prediction Center (SPC) has southeast Missouri, southern Illinois, western Kentucky, northwest Tennessee and northeast Arkansas in a "Slight Risk" are for severe thunderstorms.
The main threat appears to be wind.
SPC also has the area in a "Slight Risk" for severe thunderstorms 7am Sunday through 7am Monday.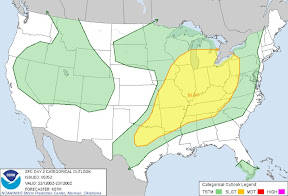 We are going to get in to an unsettled weather pattern for the next several days.
As of right now, I still think Memorial Day weekend is looking fine weather wise. *That is subject to change. Haha
I am back in this afternoon. Hopefully you won't have to see me on tv too much interrupting programs.
- Posted from my iPhone