Forecast models are hinting at another snow for parts of the mid-south Wednesday. This could include parts of southeast Missouri, western Kentucky, western Tennessee, northern Mississippi and northern Alabama.
There is still some uncertainty with the snow possibilities. Not all models have converged on the same solution. The other thing, there doesn't appear to be a lot of moisture to work with. However, like last week, it appears there will be enough cold air aloft (and at the surface) to support snow.
Here is a look at NOAA's morning run of the GFS model.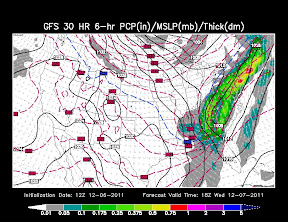 Specifically, this is looking at Wednesday afternoon.
The models shows an upper level low developing over Oklahoma late tonight and closing off by Wednesday morning over Arkansas. The low then pushes east deepening over west Tennessee.
They solid grey coloring indicates some very light moisture to work with. Looking at Murray, Kentucky it is showing only 0.03"- 0.02" of total liquid to work with. That's not a lot. However, if you fluff it up there could be a half inch of snow squeezed out if a snow to water ratio of 20:1 could happen.
I'm not sure if that high of a ratio could happen yet. Temperatures aloft (a few thousand feet) will be cold enough, it will greatly depend on temperatures at the surface.
Again, this is far from a sure bet we will see a measurable snow but it's something to keep an eye on. Stay tuned...
- Posted from my iPhone