There are signs that snow may arrive to parts of the Midwest early next week.

For several days forecast models have been hinting at a storm developing over the southwest United States, eventually moving through the Midwest. The models haven't been jiving too well with each other to the course the storm will take. If you follow me on Facebook you might remember a status update that said, "Models are flip flopping around..."

Last night's runs started coming together and this morning's model runs are pretty similar in to the track of the surface low. (See graphic below.)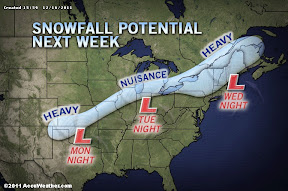 (Click image to see larger version.)


The above graphic was created by AccuWeather but is pretty close to what the models are showing regarding the track of the storm.

Northwest of the surface low cold air is expected to move in. This will allow for some significant snowfall in parts of the country.

It is interesting to compare the amount of moisture north of the surface low that could interact with the cold air and fall as snow. Models are not on the same page with this feature.

The European forecast agency's computer model is more bullish on the liquid amounts compared to NOAA's computer model. Here's a closer look at what the models are indicating for liquid available during the time it would fall as snow.
Kansas City - 0.77"

Kirksville, Mo - 0.44"

Columbia, Mo - 0.09"
Kansas City - 0.09"

Kirksville, Mo - 0.03"

Columbia, Mo - 0.00"
If the European model is correct, Kansas City could end up with 6"-9" of snow (maybe more). If the GFS is correct Kansas City could get 1" of snow. That is a pretty big difference.

I should mention that areas along and south of the track of the surface low will see good ole' rain.

- Posted from my iPhone