A quick update concerning our severe weather threat Tuesday into Wednesday morning.
The Storm Prediction Center has put out their new Day 2 Outlook. The outlook is their forecast for where severe weather could happen 7am Tuesday through 7am Wednesday.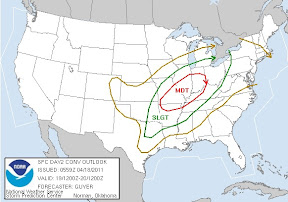 As expected, the SPC has put much of the Midwest in a "Moderate Risk" area for severe weather. This includes all of the KFVS viewing area along with central and southern Indiana.
All types of severe weather are possible with storms Tuesday/Wednesday (i.e. large hail, damaging winds, strong tornadoes).
I'll have more on this later today (Monday) as new data becomes available. Definitely stay tuned to the blog for future updates along with local media and your local National Weather Service offices for the latest forecast.
- Posted using BlogPress from my iPhone